Spinning The Roulette Wheel At No Deposit Casinos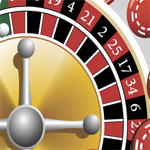 One Of The World`s Oldest And Most Beloved Casino Games Provides Casino Chip No Deposit Entertainment For All
When it comes to playing roulette, there are a number of wagers that can be made successfully, even if you are only betting on Black or Red. Some people prefer to go with a column of numbers as they appear on the board or even a range of numbers from 1-36. There is an equal proportion of black and red numbers, odd and even numbers as well as high and low numbers which range from the low (1-17) and high ends (18-36).
The interesting thing about roulette is, it that there are two versions: One European, which is referred to simply as "European Roulette" or "French Roulette" and the second version, "American Roulette". The only difference between the two is that the European version only has one green wagering number on the wheel: The single zero. Its American counterpart has the single green zero and the green double zero to wager on, and hitting either one nets the same payout as hitting, say, the 12 would: 35 to 1.
So what is so magical about the existence of these green numbers? The truth is, they – whether it is one or two, depending on the version you play – are what give the house their edge. When people bet on black or red, with a 1-1 payout, they assume they have a 50/50 chance of winning, which is not technically true – since there are at least one or two more chances of the wheel landing on a green zero.
So the next time you align your chips to the red or black diamond, remember that the house has the edge – albeit a small one – that green will actually be the color. Toy around with a few different betting strategies, and pick the ones you like best that entertain and succeed. Here's to the ball bouncing your way!
"Spinning The Roulette Wheel At No Deposit Casinos" User Comments
No comments posted yet.